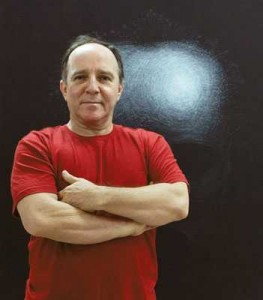 1951 Born Guáimaro, Camagüey, Cuba
Currently lives and works in Havana, Cuba
Roberto Fabelo is a member of "the generation of sure hope" whose art was reinvigorated by the creative environment of the 1980s. Fabelo juxtaposes the naturalistic depiction of characters with their staged and compact placement on a sofa or behind theatrical curtains. His deft hand captures each character in a defining gesture or attitude, and clothes him or her in a way that reveals the individual's own psychology. The realistic appearance of those beings suggests that the artist is like a hunter of faces, stalking his prey in the corners of Havana. But this humanity—genetically tainted by tropical animals and fruits, deities, shy mermaids, feathered heads—is a faithful reflection of his imagination. Clustered on a sofa or gathered around props in an empty theater, his characters wait in awe for an event that will never happen. They seldom look at or talk to each other, and even the dogs share the same baleful glare as their owners. The juicy, Rubenesque nudes do not inspire lust or competition, but only add to the strangeness of the situation.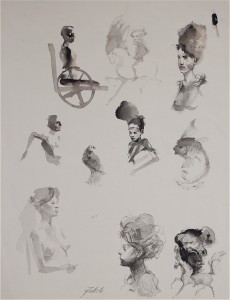 "Retratos Locos"  1980
Gouache on paper
16" x 12"
Framed under UV glass, w/archival matting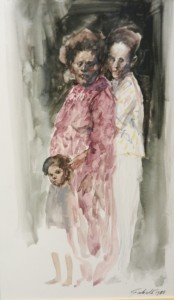 (Family Pic)  1988
Gouache on paper
10" x 6"  (approx)
Framed under Museum glass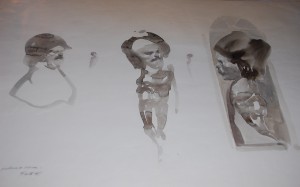 "La Persistencia de Dulcinea XXI"
1985    Gouache on paper
16" X 22"  COA
Framed under UV glass, w/archival matting