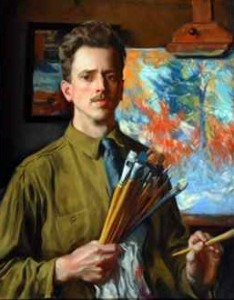 Origin: United States
Born: December 31, 1896, Wakefield, Massachusetts
Died: August 29, 1969, Lexington, Massachusetts
As a child, Aiden Lassell Ripley was interested in both music and art. Although he was a talented pianist and tuba player, he decided to study Art in Boston. He joined the Army during World War I and served as an infantryman and in the military band. After his discharge Ripley returned to New England to study Fine Arts where he specialized in landscapes. In 1924, he received a fellowship to travel to France, the Netherlands, and North Africa for two years. After his return, landscape and portraiture sales suffered during the Great Depression. Ripley adapted to the situation as a painter of sporting scenes. He worked mainly in watercolor but also in oil, etching, and drypoint. He continued to focus on images of game birds and sporting scenes for the remainder of his artistic career but also created portraits and historical works on commission.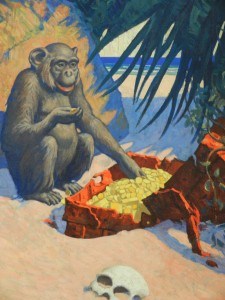 "The Monkey"
Unknown Year
Oil on Canvas
22.5" x 16" (art only)
Framed